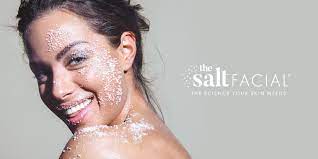 The SaltFacial is a revolutionary, three-step journey to resurface, regenerate, and rejuvenate the skin and is so in-demand that we had to buy a second one!

Step one includes sea salt exfoliation using a specialized handpiece that allows for closed-loop sea salt exfoliation and removal of dead skin cells. May be customized from light exfoliation to deep resurfacing.

Exfoliation is followed by an ultrasonic facial massage that uses sound waves to create channels between skin cells, allowing for deeper penetration of treatment products. A variety of hydrators, correcting serums, and peels are available for use during this step; you and your practitioner will decide together on the best option to meet your skin's needs.

The third and final step is LED light therapy. You'll be placed under the lamp for 9-20 minutes depending upon the light wave chosen for your skin's particular needs- your practitioner will recommend the best option for you. LED light may be used to correct pigment, decrease the appearance of facial vessels, improve acne, induce collagen production, improve tone and texture, and reduce inflammation.

Face: $275 (light to moderate exfoliation)/$350 (deep resurfacing)
Body: Neck $225/Decollete $225/Back $550/Booty $450/Back and booty $650/Arms $350/Legs $450. Add $150 for deep resurfacing.